Mental health issues are on the rise for AAPI communities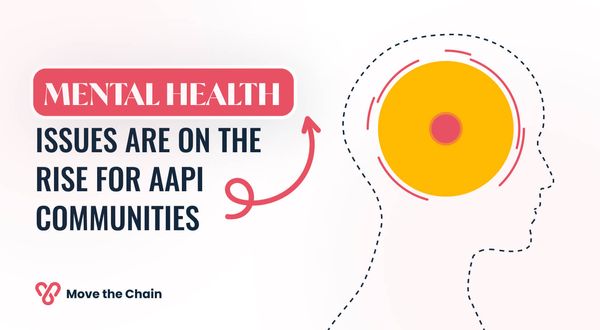 In her own personal battle with mental health, Jennifer Tarm partners with the Asian Mental Health Project to lead the charge to educate, empower, and advocate for Asian communities to have access to mental healthcare.
Meet Jennifer Tarm
Jennifer Tarm, Director of Partnership at Asian Mental Health Project (AMHP), went through her own struggles and journey through mental health.
A few years ago, Jennifer started undergraduate school at the University of California Irvine, where she enrolled in pharmaceutical sciences. The "plan", or at least her family's plan for her, was to become a pharmacist. - when in reality she did not like the subject matter at all.
She started skipping classes and ended up doing poorly in school. It got to the point where her grades became unacceptable to the science department and were asked to either select a different major or change university altogether.
Her experience with the academic counselor made matters even worse. In these advising sessions, the academic counselor would reiterate, "If you do not get these grades up, you will be removed from the department. Jennifer, take this seriously, this is really bad".
Through this experience, Jennifer felt like they were treating her as Jennifer Tarm 'the student', rather than Jennifer Tarm 'the person'. They never asked if something was going on at home or if there were any pressing issues preventing her from excelling in school. They did not take into consideration any of the internal or societal factors that could affect her own wellness, and in turn, affected her academic performance.
Fortunately, this negative experience didn't go in vain. From that point on, Jennifer knew she wanted to work in the mental health and counseling field so that she could dedicate her career to giving what academic counseling could not give her. Jennifer stated, "I want to offer holistic healing, and consider all the internal and societal factors that can impact all different facets of a person".
Empowerment in Mental Health
This change, while empowering for Jennifer, was not easy coming from an Asian family. Within the Asian community, Jennifer explains, "There is a huge stigma when it comes to mental health within the Asian community. There is a lot of stigmatizing language around anything that is not linked to physical health." In fact, mental health in the Asian community is almost unheard of. Because there is no direct translation of the words, "mental health," in Mandarin or Cantonese, it is often described as "crazy". Jennifer says that to this day because of these deep-rooted stigmas, her family still does not grasp the importance of what she does for a living.
Because of all of these reasons, Jennifer knew that one of her main goals in life was to help destigmatize mental health within the Asian community. She decided to look for Asian-focused mental health nonprofits to start supporting. Starting on social media, she found Asian Mental Health Project and right away reached out to founder Carrie Zhang to help out. One thing led to another, and Jennifer was offered a job at Asian Mental Health Project as she finishes her studies.
The objective of the Asian Mental Health Project aims to empower and educate those in Asian communities who are looking for mental healthcare.
Fast forward to May 2022, Move the Chain reached out to Asian Mental Health Project to collaborate in a partnership with Prove, a leader in digital identity.
Move the Chain works with companies to sponsor various nonprofits, aligning them to causes they care about and stand for. In honor of AAPI history month and mental health month, Prove wanted to make a difference in the AAPI community, focusing on helping destigmatize mental health.
See how Jennifer Tarm and the Asian Mental Health Project worked together with Move the Chain and Prove to raise over $30,000 to support AAPI Mental Health and fight mental illness.