SitusAMC supports Hurricane relief efforts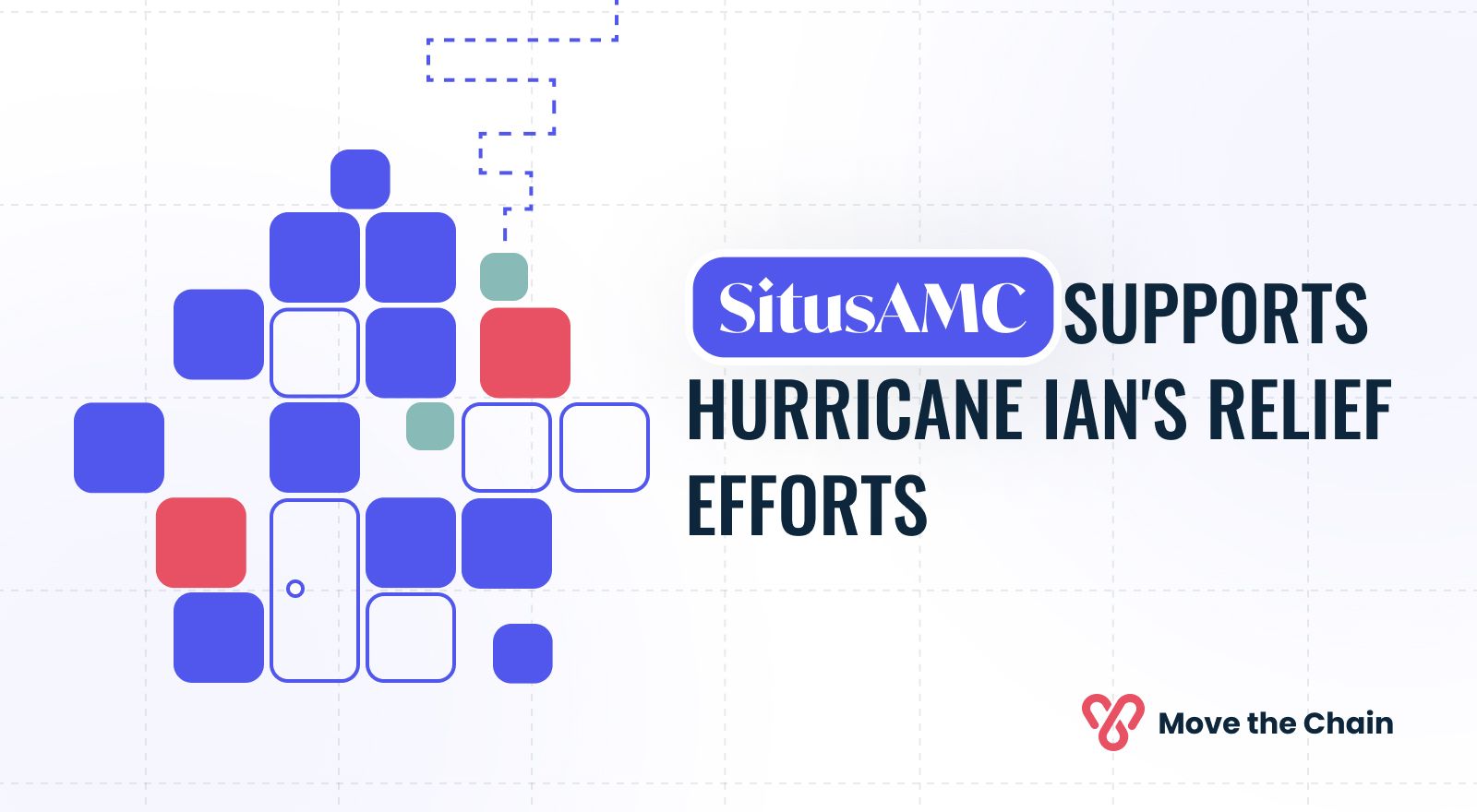 Hurricane Ian made landfall in Florida on September 28, 2022, devastating large areas of the state. Six weeks later, hundreds of people were still in shelters, and many more depended on help for food, water, and other support.
Various organizations have been working tirelessly to help people surmount the heartbreaking devastation left behind by one of the strongest hurricanes ever to hit the U.S.
Unfortunately, Hurricane season isn't over yet, and more Floridians will get affected in the upcoming days. With Tropical Storm Nicole threatening to bring heavy rain to the state, many Floridians will need help tarping their roofs, mucking-out their homes, or tearing out wet drywall and carpeting.
Team Rubicon, made up of veterans, rush to help those affected by disasters. The nonprofit brings its equipment and supplies to hard-hit areas, and its members sometimes manage to get to damaged neighborhoods before the evacuated residents do.
Greyshirts are conducting muck-outs and full home guts, tarping roofs, and providing sawyer and debris removal services in Charlotte, DeSoto, Lee, Polk, and Volusia counties. They have completed a couple of hundred work orders across the Sunshine State to support disaster relief efforts due to Hurricane Ian, and are continuing to support the affected residents throughout hurricane season.
About 70% of team members are veterans or active duty military, and all 100% of them are committed to helping Floridians return to normalcy.
Companies are partnering with nonprofits to help with Hurricane relief efforts
Nonprofits are seeing an increase in demand for services while assessing damage to buildings, interruptions in operations, and other unexpected challenges. To respond to these immediate needs, companies are partnering with nonprofits to help advance the cause.
One of those companies is SitusAMC, a leading commercial and residential real estate finance firm.
To support hurricane relief efforts, SitusAMC has partnered with Team Rubicon and Move the Chain to launch a fundraiser. SitusAMC will match every donation made by November 15, 2022.

You can join the fundraiser by clicking here.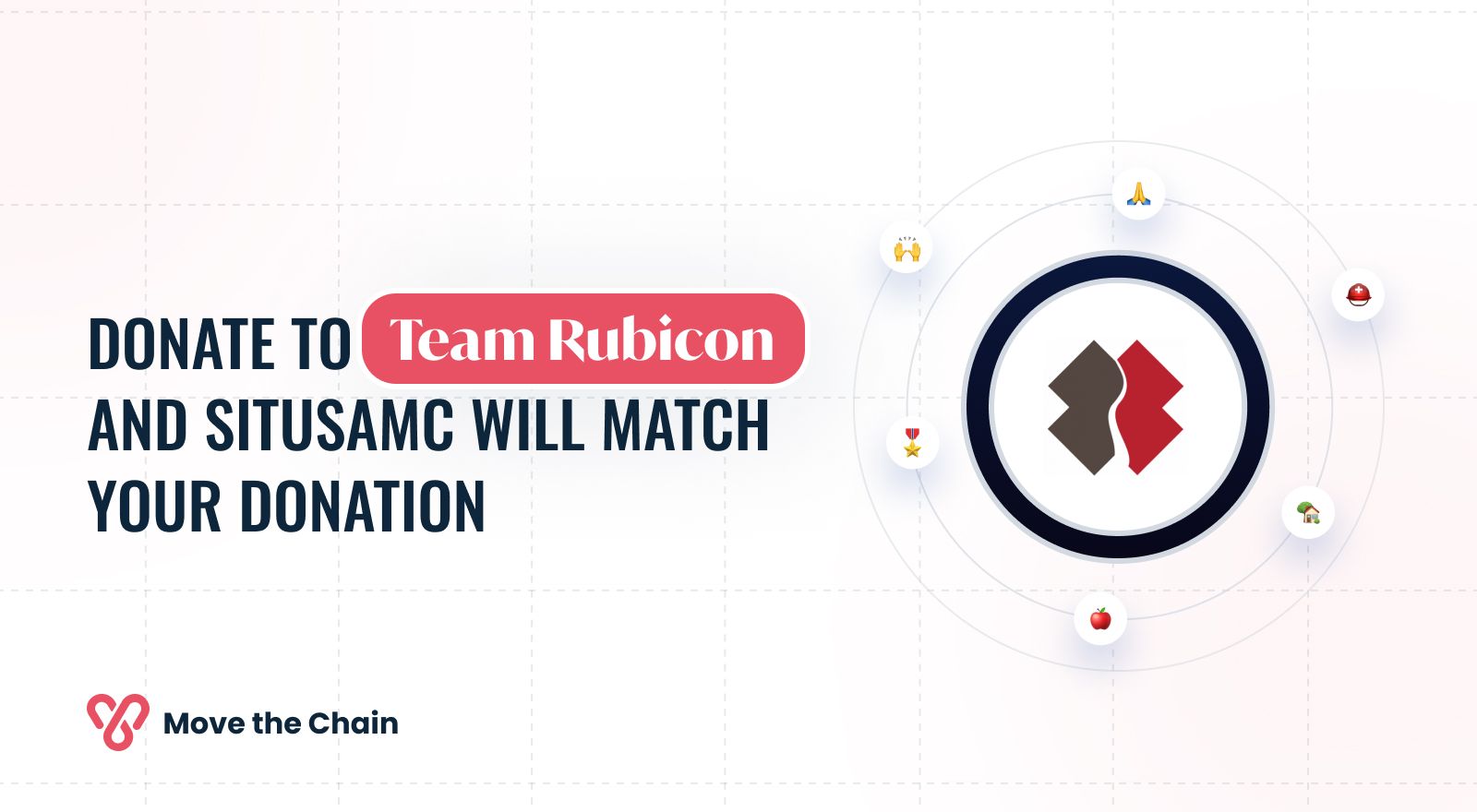 SitusAMC supports their employees
Kathleen Collins, Director of Collateral Services at SitusAMC, and one of the champions of the SitusAMC x Team Rubicon's fundraiser, has resided in Florida for the past 30 years and lived through the threat of several hurricanes. Hurricane Ian is the most recent and maybe the closest call to a direct hit to the St. Petersburg area, where she lives with her family.
Up to 24-48 hours prior to landfall, Hurricane Ian was on a path to hit the St. Petersburg area. In moments like this, every family had to make a decision to escape the storm's path or ride it out. Kathleen and her family made the decision to ride the storm out in St. Petersburg in a non-flood zone area.
SitusAMC office for Collateral Services is also in the St. Petersburg area, and the safety of all staff was the main reason they decided to close the office until the storm had safely passed.
Luckily, Hurricane Ian's path shifted course and made landfall south of our area. While St. Petersburg lost power for several days and saw piles of tree limbs scattered throughout the area that took several days to clean up, they were lucky to have escaped a direct hit.
Other regions of Florida weren't so lucky. SitusAMC and Kathleen are trying to give back to the affected community and make sure they work together to take care of those in need of a lift-up. Like Kathleen said best: "There is comfort in knowing that when help is needed, you have a community that is ready to pitch in and take care of you".
Kathleen believes working for a company that aligns with the core values of giving back to the community is extremely important: "The company that you work for is a direct reflection of who you are. That's why I am so proud of working at SitusAMC".
Team Rubicon continues to serve the communities this Veterans Day
This year, Veteran's Day is observed on November 11. This is a special day for Team Rubicon. It is a moment each year where the quintessential example of sacrifice of the service members, service member families, civilians, and nation is observed, and we're able to reaffirm our steadfast hold on our founding principles.

Hundreds of volunteers are already deployed by Team Rubicon to Florida to help with this incredibly large, complex, and difficult disaster. And that's just the beginning: hundreds more Greyshirts will be deploying to Florida to assist with the hurricane response and recovery in the coming month.